An R44 Raven with seaworthy floats.
The Robinson R44 Clipper Series are Ravens equipped with seaworthy floats and corrosion protection for over-water operations. The Clipper's low center-of-gravity provides excellent stability on water, and the float design enables safe emergency water landings and takeoffs. Special ground-handling wheels are included with each Clipper.
Fixed-Utility Floats
Available for both the Clipper I and Clipper II, fixed-utility floats add approximately 50 pounds to the aircraft's empty weight. Fixed-utility floats remain fully inflated and reduce cruise speed by approximately ten knots.
Pop-Out Floats
Available only on the Clipper II, pop-out floats have the same buoyancy as fixed-utility floats. The compact, low profile design minimizes the floats' impact on the helicopter's cruise speed and makes it easy to get in and out of the helicopter. Pop-out floats add 65 pounds to the helicopter's empty weight and, when not inflated, stow in snug sleeves along the skid tubes. A trigger on the collective deploys the floats, which inflate from a compressed helium-filled, carbon-fiber tank located under the left front seat.
R44 Clipper with fixed-utility floats.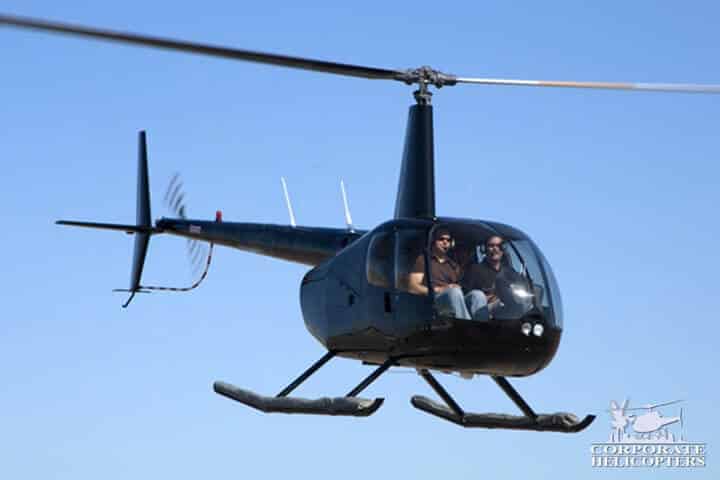 R44 Clipper with pop-out floats.

Features, Specifications & Optional Upgrades
Dimensions: Fixed-Utility Floats
To ensure the highest quality, Robinson manufactures, assembles, inspects and flight tests all of its helicopters at its Torrance, California factory. The facility features state of the art equipment including computer numerically controlled (CNC) machining centers, electrical discharge machines (EDM), and water jet and laser cutting machines. Coordinate measuring machines (CMM) capable of checking dimensional tolerances within 3 microns or 120 millionths of an inch are used to inspect precision machined parts. This level of accuracy is essential to the design and fabrication of interchangeable parts.
To maximize efficiency and productivity, a large percentage of parts are manufactured in-house allowing the company to better control costs, eliminate delays and ensure the best possible quality.
Robinson's 617,000 square-foot facility.
Benefits of buying from Corporate Helicopters.
We handle it all: Purchase, training, maintenance, tracking & more.
Complete service & parts support.
Corporate Helicopters is a Robinson Factory Authorized Service Center.
Full-service Robinson repair, maintenance & overhaul.
We provide expert repair and maintenance for every part of the maintenance schedule on the R22, R44 & R66 models. We offer everything from from major and minor repairs, to complete overhauls and inspections.
Contact us for a free quote.
Robinson parts & overhaul kits.
As an authorized Robinson Helicopter parts center, we have great prices on genuine Robinson parts. Our maintenance department is staffed with Robinson Factory trained mechanics.
Contact us for a free quote.
Contact us with your Robinson service request.
Call us directly at (858) 505-5650, or use our contact form.